Dressing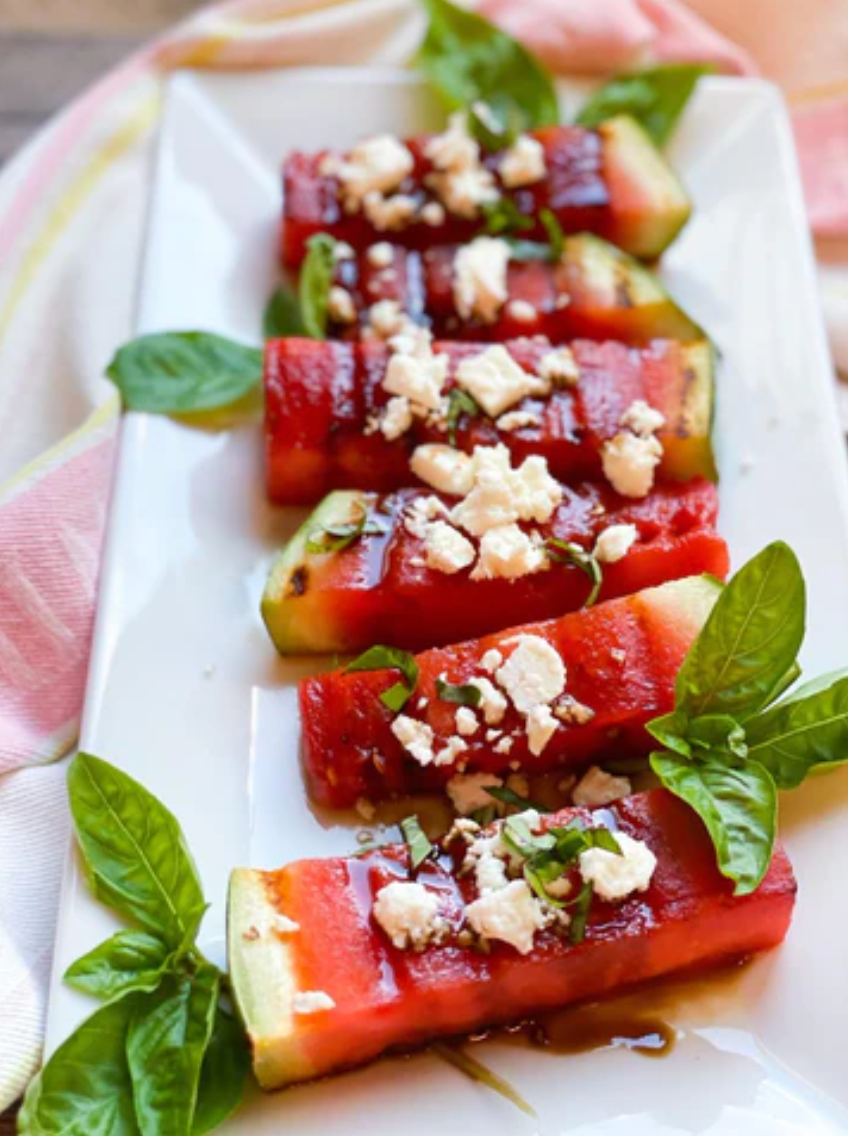 Grilled Watermelon with Balsamic Drizzle
Recipe from De Socio in the Kitchen, annotated by Stamatopoulos & Sons
Ingredients
1

 

small watermelon – seedless

1 cup

 

feta [Greek Feta]
Stamatopoulos & Sons 25* Dark Balsamic Vinegar
fresh basil
Stamatopoulos & Sons Delicate EVOO
salt
Instructions
Note – measurements aren't really required as it will depend on the size of your watermelon and how many slices you would like to make. So you are free to use as much or as little as you would like.
Slice watermelon into desired shapes, I like the stick shape but wedges work well too. I also like to leave on the green rind so it can be a handheld, but feel free to remove it if you prefer.
Heat grill (or grill pan) to medium-high. Lightly brush olive oil on the grates. Grill watermelon on two sides until you see grill marks starting to develop.
Remove from grill, place on a platter and sprinkle each piece with a tiny pinch of salt. Drizzle on the thick balsamic vinegar, olive oil and feta. Lastly, toss on some shredded basil and enjoy while warm!
Lemon-Garlic Dressing
To add an extra lemon punch, try this super fast, easy recipe with Stamatopoulos & Sons Lemoni Extra Virgin Olive Oil. 
Ingredients: 
8 cloves garlic, minced or finely chopped (more if you LOVE garlic)

1/2 tsp of black pepper (more if desired)

2 tsp salt

1/2 cup Stamatopoulos & Sons Lemoni Extra Virgin Olive Oil

1 cup Freshly squeezed lemon juice
Directions: 
Mix all ingredients into a container with securable

 lid

Tighten lid

Shake vigorously until olive oil and lemon juice blend into one, after about 1 minute of shaking.

Spread over fresh spinach or any shredded salad greens...also try as a marinade. 
Adapted from SparkRecipes.