Snacks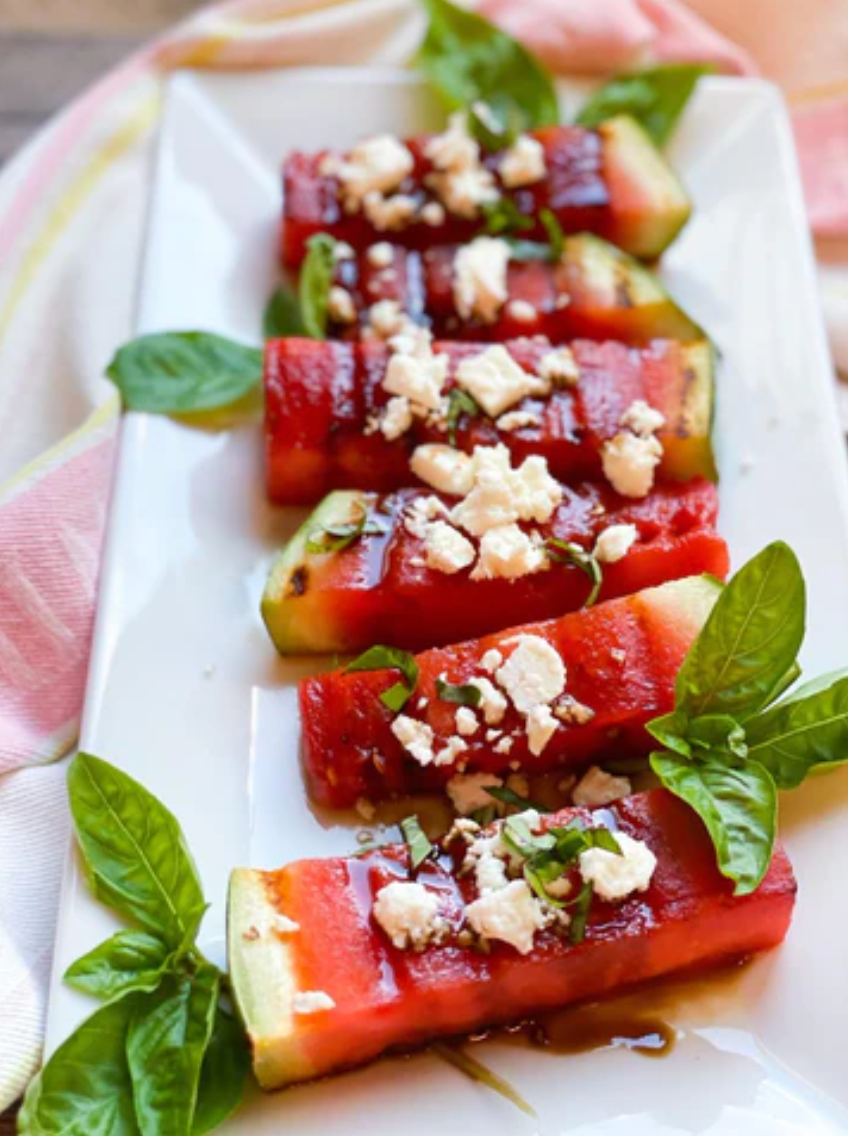 Grilled Watermelon with Balsamic Drizzle
Recipe from De Socio in the Kitchen, annotated by Stamatopoulos & Sons
Ingredients
1

 

small watermelon – seedless

1 cup

 

feta [Greek Feta]
Stamatopoulos & Sons 25* Dark Balsamic Vinegar
fresh basil
Stamatopoulos & Sons Delicate EVOO
salt
Instructions
Note – measurements aren't really required as it will depend on the size of your watermelon and how many slices you would like to make. So you are free to use as much or as little as you would like.
Slice watermelon into desired shapes, I like the stick shape but wedges work well too. I also like to leave on the green rind so it can be a handheld, but feel free to remove it if you prefer.
Heat grill (or grill pan) to medium-high. Lightly brush olive oil on the grates. Grill watermelon on two sides until you see grill marks starting to develop.
Remove from grill, place on a platter and sprinkle each piece with a tiny pinch of salt. Drizzle on the thick balsamic vinegar, olive oil and feta. Lastly, toss on some shredded basil and enjoy while warm!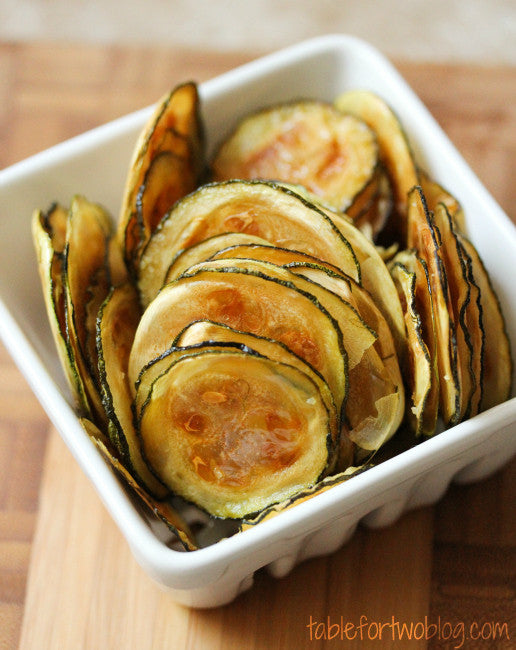 Oven-baked Zucchini Crisps Recipe
Crunchy and irresistible zucchini crisps are a fabulous snack! Try them with Stamatopoulos & Sons Medium Extra Virgin Olive Oil. 
Ingredients: 
1 large zucchini
2 tbsp. olive oil
Kosher salt
Directions: 
Preheat oven to 225 degrees Fahrenheit. Line two large baking sheets (I used two 17" baking sheets) with silicon baking mats or parchment paper.
Slice your zucchini on a mandolin. Mine had 1, 2, or 3 for thickness and I used 2.
After you slice your zucchini, place the slices on a sheet of paper towels and take another paper towel and sandwich the zucchini slices and press on them. This helps draw out the liquid so it'll cook a bit faster.
Line up the zucchini slices on the prepared baking sheet tightly next to each other in a straight line, making sure not to overlap them.
In a small bowl, pour Stamatopoulos & Sons Medium olive oil in and take a pastry brush to brush the olive oil on each zucchini slice.
Sprinkle salt throughout the baking sheet. Do NOT over-season, in fact, it's better to use less salt initially because the slices will shrink; so if you over-season, it'll be way too salty! You can always add more later.
Bake for 2+ hours until they start to brown and aren't soggy and are crisp.
Let cool before removing and serving.
Keep in an airtight container for no more than 3 days.
Taken from Table for Two.